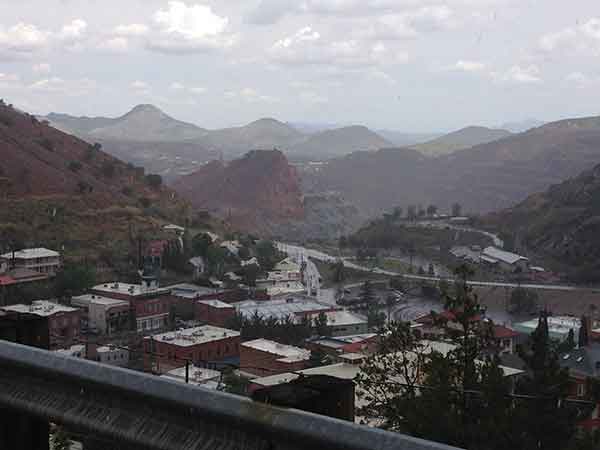 Go north to get cool, say the denizens of Arizona's urbs. In Tucson, it's up Mt. Lemon. In Phoenix, it's up to the Rim.
After all, south is hot! Not! Not always, at least.
Bisbee, with its mile-high elevation, has average high/low temps in June of 89/59, while Payson, up on the Mogollon Rim where Zane Grey once rode, is 88/51. Not a lot of difference. In July, the numbers are 87/62 for Bisbee and 91/59 for Payson, after the rains start. (Here's the source for these figures.)
The summer rains don't just cool things off in Bisbee. No, no, no. They add a beautiful dimension to the scenery as well. The thunderheads often start in the valley below the city and come right up into the canyons, a-flashin' and a-roarin' and dropping the temperature 20 degrees or so within minutes, while soaking and cooling folks who are out in the streets dancing, 'cause they can. Okay, perhaps that's a bit dramatic, but we've given rainy-day tours, in our open Jeeps, to folks from Phoenix who dearly love getting a soaking. Because they can't get it at home.